PRODUCT LIST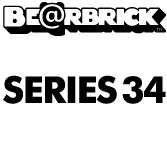 THE BE@RBRICK SERIES 34
SUPER INFORMATION!!
2017年6月発売予定
BE@RBRICK SERIES 34

参考小売価格各¥450(税抜)
※消費税は別途申し受けます。

●各全高約70mm

Despicable Me 3 TM (C) 2017 Universal Studios.
All Rights Reserved.
(C) DLE
(C) Production_Genmu / Teresa Chiba
(C) Grape Company
Phantom of the Paradise (C)
2017 Twentieth Century
Fox Film Corporation.
All Rights Reserved.
(C) REAL JAPAN
(C) タナカカツキ / KITAN CLUB
(C) The Chemical Brothers 2017
(C) 2017 Viacom International Inc.

BE@RBRICK TM & (C) 2001-2017
MEDICOM TOY CORPORATION. All rights reserved.
© 2014 MEDICOM TOY CORPORATION, ALL RIGHTS RESERVED.
<!-