PRODUCT LIST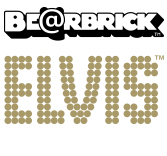 THE KING OF ROCK 'N' ROLL!(TM)
2020年4月発売・発送予定
BE@RBRICK
ELVIS PRESLEY 100% & 400%
頒布価格 12,000円(税込 13,200円)
●全高約70mm/280mm
●ELVIS PRESLEYのBE@RBRICKが発売決定!
※監修中のサンプルを撮影しております。
 発売商品とは一部異なる場合がございます。
Please click here for order from overseas.
ELVIS TM and ELVIS PRESLEY TM are trademarks of
ABG EPE IP LLC Rights of
Publicity and Persona Rights:
Elvis Presley Enterprises,
LLC (C) 2019 ABG EPE IP LLC elvis.com
BE@RBRICK TM & (C) 2001-2019
MEDICOM TOY CORPORATION. All rights reserved.
© 2014 MEDICOM TOY CORPORATION, ALL RIGHTS RESERVED.
<!-