HOME
>
LIMITED ITEM
>
BE@RBRICK The Rolling Stones "Sticky Fingers" Design Ver. 1000%
PRODUCT LIST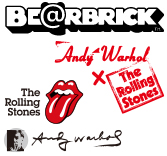 Andy Warhol ×
The Rolling Stones × BE@RBRICK
2023年1月発売・発送予定
BE@RBRICK The Rolling Stones
"Sticky Fingers" Design Ver. 1000%
頒布価格¥85,800(税込)
●全高約700mm
●The Rolling Stones "Sticky Fingers"
 Design Ver.のBE@RBRICKが発売決定!
●真贋鑑定 仮想空間収納 du-al搭載!
※監修中のサンプルを撮影しております。
 発売商品とは異なる場合がございます。
Please click here for order from overseas.
(C)/(R)/TM The Andy Warhol Foundation
for the Visual Arts, Inc. 
(C) 2022 Musidor B.V. Under license
to Bravado Merchandising. All Rights Reserved.
BE@RBRICK TM & (C) 2001-2022
MEDICOM TOY CORPORATION. All rights reserved.
© 2014 MEDICOM TOY CORPORATION, ALL RIGHTS RESERVED.
<!-