PRODUCT LIST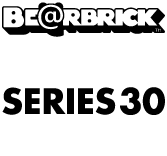 30th RELEASE
THE BE@RBRICK SERIES 30
SUPER INFORMATION!!
2015年6月発売予定
BE@RBRICK No.B@-030
BE@RBRICK SERIES 30
参考小売価格 各450円(税込 各495円)
●各全高約70mm
BE@RBRICK シリーズ30(BASIC)の遊び方
Please click here for order from overseas.
(C) AliceProject All right reserved.
(C) NTV デザイン・造形 PICOPICO
TM & (C) MRC II Distribution Company L.P and
Universal Pictures,
a division of Universal City Studios LLC.
All rights reserved.
(C) NIPPON ANIMATION CO., LTD.
(C) ニャロメロン (C) 2015 noprops
BE@RBRICK TM & (C) 2001-2015
MEDICOM TOY CORPORATION. All rights reserved.
© 2014 MEDICOM TOY CORPORATION, ALL RIGHTS RESERVED.
<!-