PRODUCT LIST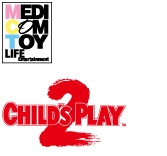 「誰にも忘れられない誕生日がある」
2013年5月下旬発売予定
MLE GOOD GUYS シリーズ
ウォレット

参考小売価格各¥2,800(税込)

●W120mm×H90mm
●TOY PATTERN(青)/GOOD GUYS PATTERN(白)の
 2色展開

Child's Play 2, Child's Play 3 and Bride of Chucky are
trademarks and copyrights of Universal Studios.
The movie Seed of Chucky
(C) 2004 Focus Features LLC.
Licensed by Universal Studios Licensing LLC.
All rights reserved.
MEDICOM TOY LIFE Entertainment TM &
(C) 2001-2012 MEDICOM TOY CORPORATION.
All rights reserved.
© 2014 MEDICOM TOY CORPORATION, ALL RIGHTS RESERVED.
<!-