PRODUCT LIST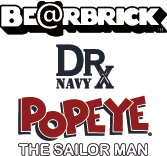 DR.ROMANELLI ARMY VS NAVY
50's vs 30's
2011年10月12日発売予定
BE@RBRICK No.000DRXXPOPEYE400
BE@RBRICK DRX NAVY
POPEYE THE SAILOR MAN 400%

頒布価格¥7,140(税込)

●全高約280mm
●DR.ROMANELLIがPOPEYE THE SAILOR MANを
 ベアブリック化!
●1/6計画、ISETAN Shinjuku
 INTERNATIONAL CREATORS他一部店舗にて発売!

※数には限りがございますので、売り切れの際は
 ご了承ください。

問合せ先/
1/6計画 TEL.03-3467-7676
伊勢丹新宿店MEN'S館2F TEL.03-3352-1111(大代表)

(C) 2011 King Features Syndicate, Inc.
TM Hearst Holdings,Inc.
BE@RBRICK TM & (C) 2001-2011
MEDICOM TOY CORPORATION. All rights reserved.
© 2014 MEDICOM TOY CORPORATION, ALL RIGHTS RESERVED.
<!-