PRODUCT LIST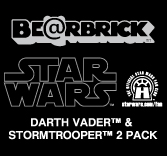 YOU DON'T KNOW THE POWER OF
THE DARK SIDE!
2009年11月発売予定
B@000D&S
BE@RBRICK DARTH VADER(TM) &
STORMTROOPER(TM) 2 PACK

参考小売価格¥3,129(税込)

●各全高約70mm

発売元/株式会社タカラトミー

(C) 2009 Lucasfilm Ltd. & TM.
All rights reserved.
BE@RBRICK TM & (C) 2001-2009
MEDICOM TOY CORPORATION.
All rights reserved.

*監修中のサンプルを撮影しております。
 発売商品とは異なる場合がございます事、
ご了承ください。
*Prototype only. Final product may differ
from image shown.
© 2014 MEDICOM TOY CORPORATION, ALL RIGHTS RESERVED.
<!-