PRODUCT LIST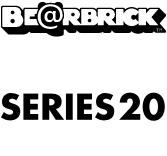 (^-^)∠※PAN!☆CoNgrAtulaTionS XX (*^(I)^*)
ExPerIeNce iS【。・▽・】y- tHe bEst☆゚+。サンキヴ+。☆
tEacHer★iSn't iT?? kNoWwlEdgE♪"ルルゥiS yOur pOWer⊂(*^(ェ)^*)⊃
BE@RBRICK NuMber20♪((*^-^)八(^∇^*))♪
2010年6月発売予定
ベアブリック No.20
ベアブリック シリーズ20

参考小売価格各¥399(税込)

●各全高約70mm
●アーティストには、マーク・ゴンザレスと
 fragmentdesignをフィーチャリング!

BE@RBRICK TM & (C) 2001-2010
MEDICOM TOY CORPORATION. All rights reserved.
SSUR(C)
Captain Action(R), the "CA"logo and all related art
are trademarks of Captain Action Enterprises, LLC
(C) 2010 MVLFFLLC. TM & (C) 2010 Marvel
Entertainment, LLC and its subsidiaries.
All rights reserved.
GREMLINS: TM & (C) Warner Bros. Entertainment Inc.
(s10)
(C) Disney / Pixar
Krooked is a Registered Trademark of S.F.
Deluxe Productions, Inc.
© 2014 MEDICOM TOY CORPORATION, ALL RIGHTS RESERVED.
<!-