PRODUCT LIST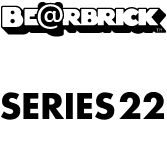 WELCOME TO THE BE@RBRICK
10th ANNIVERSARY SEASON !!
BE@RBRICK生誕10周年記念シリーズ第1弾!
2011年6月発売予定
BE@RBRICK No.22
BE@RBRICK SERIES 22

参考小売価格各¥399(税込)

●各全高約70mm  

(C) sandaimeuotakehamadashigeo
(C) TV TOKYO / YOSHIMOTO KOGYO
(C) Disney
(C) Disney/Pixar
TM & (C) DC Comics. WB SHIELD:
TM & (C) Warner Bros. Entertainment Inc. (s11)
(C) huke/B★RS Project
(C) 2011 Mattel, Inc. All Rights Reserved.

BE@RBRICK TM & (C) 2001-2011
MEDICOM TOY CORPORATION.
All rights reserved.
© 2014 MEDICOM TOY CORPORATION, ALL RIGHTS RESERVED.
<!-