PRODUCT LIST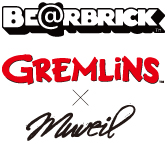 GREMLINS × MUVEIL
2016年2月発売・発送予定
BE@RBRICK GIZMO MUVEIL Ver.1000%
頒布価格¥37,000(税抜)
※消費税は別途申し受けます。
●全高約700mm
●GREMLINS × MUVEILのキュートな
 GIZMO BE@RBRICKが1000%で登場!!
●メディコム・トイ直営各店舗、
 メディコム・トイ運営オンラインストア各店
 及びMUVEIL取り扱い店舗、他一部店舗にて発売予定!
Please click here for order from overseas.
GREMLINS and all related
characters and
elements are trademarks of and
(C) Warner Bros. Entertainment Inc.
(s15)
MUVEIL COPYLIGHT (C) FRIEND
BE@RBRICK TM & (C) 2001-2015
MEDICOM TOY CORPORATION. All rights reserved.
© 2014 MEDICOM TOY CORPORATION, ALL RIGHTS RESERVED.
<!-