PRODUCT LIST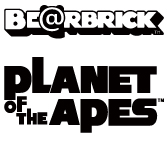 2019年6月発売予定
BE@RBRICK
GENERAL URSUS & SOLDIER APE 2PACK

参考小売価格¥3,200(税抜)
※消費税は別途申し受けます。

●各全高約70mm
●あの『PLANET OF THE APES』より
 GENERAL URSUSとSOLDIER APEの
 BE@RBRICKが登場!!

※監修中のサンプルを撮影しております。
 発売商品とは一部異なる場合がございます。

Planet of the Apes TM &
(C) 2019 Twentieth Century
Fox Film Corporation. All Rights Reserved.
BE@RBRICK TM & (C) 2001-2018
MEDICOM TOY CORPORATION. All rights reserved.
© 2014 MEDICOM TOY CORPORATION, ALL RIGHTS RESERVED.
<!-