PRODUCT LIST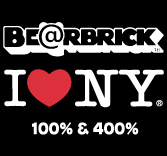 I LOVE NY
インターネット通販限定

2006年12月末発送予定

BE@RBRICK No.000NY
100% BE@RBRICK I LOVE NY
頒布価格¥1,050(税込)
●全高約70mm

BE@RBRICK No.000NY400
400% BE@RBRICK I LOVE NY
頒布価格¥5,040(税込)
●全高約280mm

●初の全身フロッキーを施し、
 冬のNYをイメージ!
●本商品の収益金の一部をユニセフに寄付します。

I Love NY_ is a registered trademark/
service mark of the NYS Department of
Economic Development (NYSDED);
Used with permission. All rights to the
mark and to the I LOVE NEW YORK program are
reserved by the NYSDED.
BE@RBRICK TM & (C) 2001-2006 MEDICOM TOY
CORPORATION. All rights reserved.
© 2014 MEDICOM TOY CORPORATION, ALL RIGHTS RESERVED.
<!-