PRODUCT LIST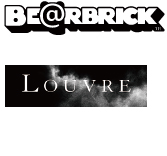 BE@RBRICK × Louvre
2021年2月発売予定
BE@RBRICK
LEONARD DE VINCI
Mona Lisa 100% & 400%
頒布価格 15,000円(税込 16,500円)
●全高約70mm/280mm
●ルーブル美術館監修のもと
 モナリザのBE@RBRICKが
 100% & 400%で発売決定!
●メディコム・トイ直営各店舗及び
 オンラインストア各店、Louvre美術館にて発売予定!
Launch on
https://boutique.louvre.fr/
will happen on early March 2021
La Joconde. Portrait of Lisa Gherardini,
wife of Francesco del Giocondo,
known as the Mona Lisa.
Leonardo di ser Piero da Vinci,
known as Leonardo da Vinci
(Vinci, 1452 - Amboise, 1519)c. 1503-19
Musee du Louvre, Italian Paintings
(C) RMN - Grand Palais
(Musee du Louvre) / Michel Urtado
BE@RBRICK TM & (C) 2001-2021
MEDICOM TOY CORPORATION. All rights reserved.
© 2014 MEDICOM TOY CORPORATION, ALL RIGHTS RESERVED.
<!-