PRODUCT LIST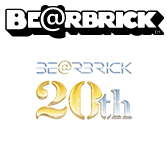 BE@RBRICK WORLD WIDE TOUR 3
開催記念商品
2021年12月4日発売予定
BE@RBRICK 20th Anniversary
DEEP CHROME Ver.400%

頒布価格¥22,000(税込)

●全高約280mm

※数量限定商品のため、在庫が無くなり次第、
 販売は終了となります。

『BE@RBRICK WORLD WIDE TOUR 3』
会 場:スペース オー[表参道ヒルズ 本館地下3F]
場 所:東京都渋谷区神宮前4-12-10
期 間:2021年12月4日(土)〜2021年12月9日(木)
※会期中無休
時 間:11:00〜21:00 (12月5日(日) は20:00まで)
入場料:200円(税込)

(C) 2021 MEDICOM TOY 
The MEDICOM TOY 25th Anniversary logo and
BE@RBRICK 20th Anniversary logo are
designed by HAJIME SORAYAMA.
BE@RBRICK TM & (C) 2001-2021
MEDICOM TOY CORPORATION. All rights reserved.
© 2014 MEDICOM TOY CORPORATION, ALL RIGHTS RESERVED.
<!-