PRODUCT LIST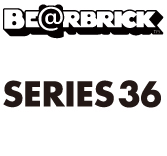 THE BE@RBRICK SERIES 36
SUPER INFORMATION!!
2018年6月発売予定
BE@RBRICK SERIES 36

参考小売価格 各450円(税込 各495円)

●各全高約70mm

IT and all related characters and elements
(C) & TM Warner Bros. Entertainment Inc. (s18)
(C) 東映
"Garfield" Character(s): (C) Paws.
(C) 2018 Peanuts Worldwide LLC
(C) 原マスミ
(C) TSURUBARA
(C) KAORI HINATA
Kingsman: The Secret Service
(C) 2018 Twentieth Century Fox Film
Corporation. All rights reserved.

BE@RBRICK TM & (C) 2001-2018
MEDICOM TOY CORPORATION. All rights reserved.
© 2014 MEDICOM TOY CORPORATION, ALL RIGHTS RESERVED.
<!-