INFORMATION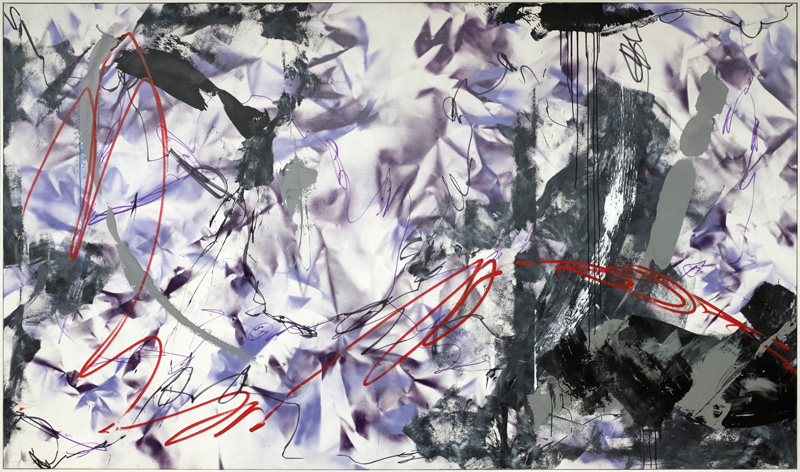 Futuraについて Futura(アメリカ、1955-)、本名レオナード・マクガーは、グラフィティと現代アートが出会ったときのパイオニアとして、
早くも70年代からストリートシーンで活躍していました。それまで完全にレターベースだったグラフィティに
抽象を取り入れた画期的な作品で、1980年代に注目され始めたFutura(当時の名はFutura 2000)は、
ジャン=ミシェル・バスキアやキース・へリング、ジュリアン・シュネイベルなどを含んだ
大きなアートムーブメントの一翼を担いました。本人のいう"サブウェイ・スクール"で、
完全な独学によって身につけた色、動き、ラインの技巧はカンディンスキーやクレーと、
時代に即して進化するスタイルは交友関係のあるバスキア、ケニー・シャーフ、ラメルジーなどと並べられます。
当時ラディカルだったその手法も、数十年を経た今では、この上なく純粋なものと見なすことができます。
彼以降に登場した多くのストリートアーティス トと比べても、Futuraの作品は、今でもその繊細さ、
空白の使い方、要素のクオリティによって、他と一線を画しています。彼は当初も今も、原色の雲、
印象的な動き、トリックのような巧みなスプレー缶使いがあれば、それ以外何もいらないことを知っているのです。
40年以上も勢いを失う気配なく、第一線で活躍し続けてこられたのは、洞察と習熟の賜物です。
そして、 Futuraのありえないほど細いラインは、未だに追従を許していません。Futuraに関する最新情報は、
インスタグラム@futuradosmil、または I/AM: Iconoclast / Art and Artist Management (www.icnclst.com) でご覧いただけます。


About Futura A pioneer when graffiti met contemporary art, Futura (American, b. 1955), alias of Leonard McGurr was
known as early as the seventies for his radical approach in the street, introducing abstraction to an entirely letter-based discipline.  
His work caught the attention in the 1980s, and Futura (then Futura 2000) found himself part of a wider art movement
that included the likes of Jean-Michel Basquiat, Keith Haring and Julian Schnabel. Entirely self-taught in what he calls
"the subway school", Futura has been compared to Kandinsky and Klee for his mastery of color, movement and line;
and friends Basquiat, Kenny Scharf and Rammellzee for his progressiveness and of-the-moment relevance. Radical then,
his methodology can now be viewed over a span of decades as something consummately pure. When compared to the
many street artists who have come along since, Futura's work still stands apart for its subtlety, use of white space,
and elemental quality. The artist knows all that is needed - as it was at the beginning – are clouds of primary color,
arresting movement, and skillful tricks with a spray can. Insight and proficiency have kept him relevant for
40+ years with no signs of slowing down, and successors have yet to match Futura's impossibly thin aerosol lines.
Futura can followed on instagram at @futuradosmil, or through I/AM: Iconoclast / Art and Artist Management (www.icnclst.com).
© 2014 MEDICOM TOY CORPORATION, ALL RIGHTS RESERVED.